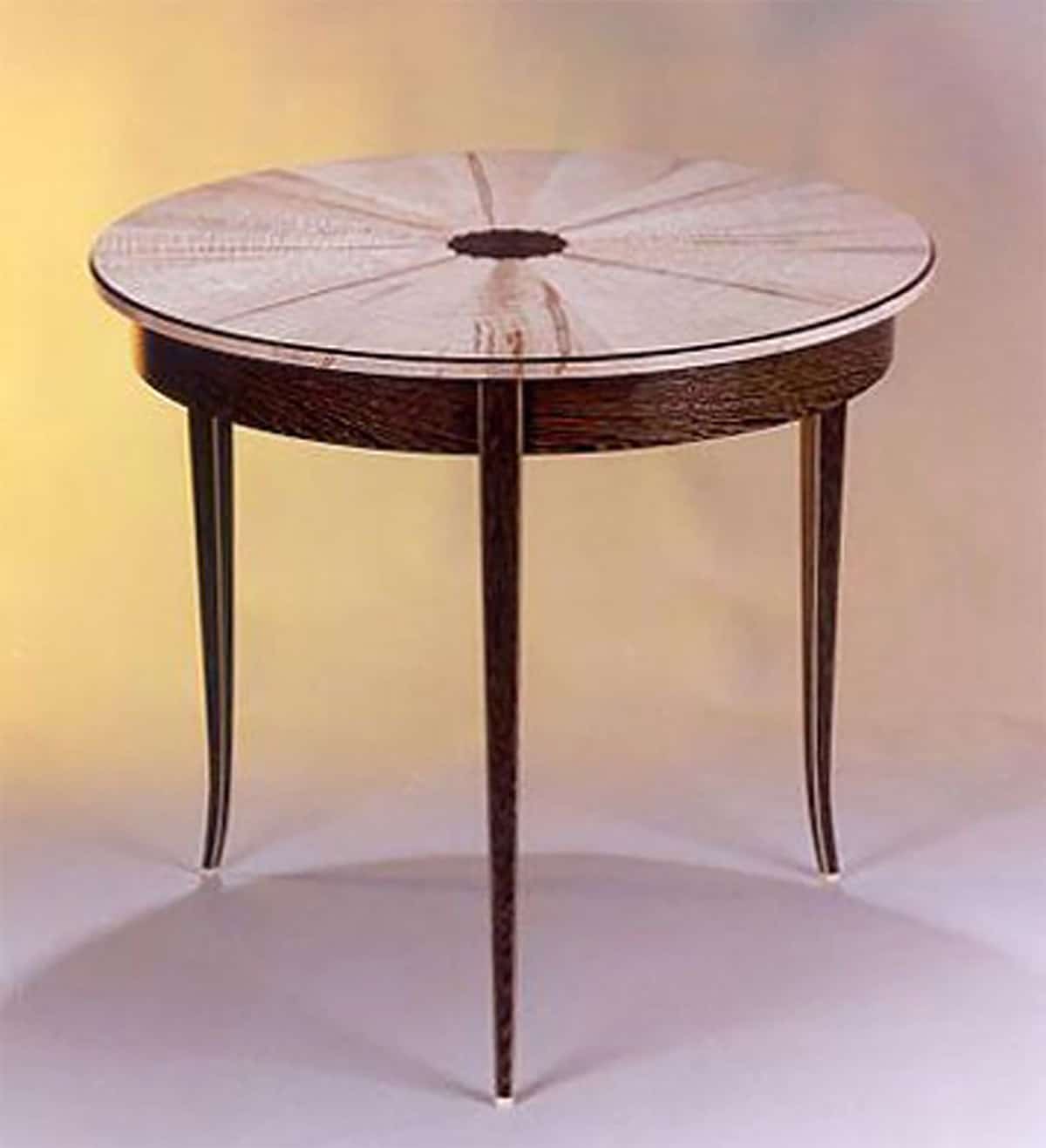 Starburst
This one-of-a-kind, three-legged table was created using African Anigre, a species prized for its striking figure and the dark, beautiful wood known as Wenge (pronounced "wen-gay"), also known as Panga-Panga, which derives from Cameroon, Congo and Gabon, Africa.
Wenge veneer was book-matched and then applied over solid Maple legs for visual uniformity which also helps with the overall flow of the grain pattern.  Each corner of each leg was then chamfered slightly to expose a bit of the Maple.
The table top was created with the use of African Anigre veneer over a substrate.  This technique insures that an extremely stable surface is created which would otherwise be impossible with solid wood.  All wood expands and contracts from relative humidity with veneer being the exception due to the process of its construction.  The "starburst" at the center is made of 24 segments of Wenge (two pieces for each wedge or section) and then placed in a book-matched pattern to help achieve a "seamless" look. The dark band of wood that encompasses the perimeter is also made of Wenge.
The underneath portion of the table top houses a "secret" storage tray that is held in place with 18 "rare earth" magnets.  To remove, simply pull down on tray using the round finger hole. 
These woods are completely natural in color with no use of stains, dyes or pigments.  It is important to keep this table out of direct sunlight.  Table should be dusted periodically and only cleaned when necessary with a slightly damp cloth (water only) and then immediately dried with a soft, clean cloth.
Custom Commissions
Do you have an idea for a custom piece you'd like to own?  Your imagination is my creation!  Let's work together to create the perfect piece destined to be a future family heirloom.
Gallery of Work
Take some time to look through the range of custom creations Ramon has brought to life.  Ramon calls his creations Functional Art because they are each a piece of art with a practical purpose.
Furniture Care
Quality, hand-made furniture is beautiful and durable. Caring for these future antiques today is an essential part in making tomorrow's heirloom. Ramon's furniture care page offers some tips to do just that.
Message Ramon
Get In touch. Ask Any Question or Start a Free Quote