Functional Art
No paint. No stain. No dye. The images in my work are created using a technique called marquetry. This ancient art utilizes different species of wood (therefore varying colors, textures and grain patterns) to create these motifs. There are times, however, when dyed veneers are desired for their incredible vibrance and colorfast dyes that won't fade over time. The Purple Heart chairs (natural in color) have crest rails or chair backs that have dyed veneers, depicting the amazing, bright fall colors in all their glory.
Ramon Valdez, Artist/Owner
I am honored to have this opportunity to introduce you to "Functional Art." I have an immense respect for nature, and feel blessed to have the ability to do what I absolutely love. I am passionate about what I do, and feel an intense bond with nature as I create my art – always knowing that I am merely rearranging the beauty that Mother Nature has already provided. I feel honored to give new life to the wood that I use when a new piece emerges. This new birth reflects my feelings for the harmony of life, love, and happiness. I believe that the tools I use are the means by which I leave a trace of my spirit on the soul of a tree.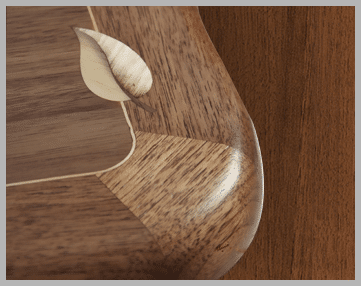 Custom Commissions
Do you have an idea for a custom piece you'd like to own?  Your imagination is my creation!  Let's work together to create the perfect piece destined to be a future family heirloom.
Gallery of Work
Take some time to look through the range of custom creations Ramon has brought to life.  Ramon calls his creations Functional Art because they are each a piece of art with a practical purpose.
Furniture Care
Quality, hand-made furniture is beautiful and durable. Caring for these future antiques today is an essential part in making tomorrow's heirloom. Ramon's furniture care page offers some tips to do just that.
Woodworking Products
These woodworking products will make your woodworking process much easier.  Each of these products were created by Ramon to help him create his masterpieces - and now he offers them to you.
Plans and Parts Lists
Get plans and parts lists to build your own woodworking products to make your work easier.  Ramon uses each of these products, and now offers the plans and parts lists here so you can use them too.
Books and Courses
Do you want to know how Ramon is able to create beautiful works of art?  These courses will teach you how to accomplish the level of precision Ramon demands in his own work.  Start leaning now.
"There are woodworkers, and then there are artists."
Vinny
"The amount of detail you put into your works is extraordinary."
Raha
"OK, perfect exists."
Natalie
Message Ramon
Get In touch. Ask Any Question or Start a Free Quote